Page One
April 28, 2003 Work Begins!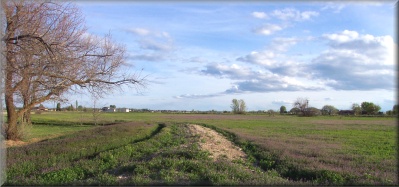 This photo (taken from Bott Lane looking south to where the new house will be) shows our existing berm which will be widened to become the first 40 feet of the new driveway.
Dirt was supplied and delivered courtesy of Double C Excavation. These photos show the very first loads that were removed from a swimming pool they were excavating nearby. Thank you Double C!
---
On May 4, the excavation equipment arrives.
Many thanks to Mike Fletcher of Fletcher's Excavating!